Location: Cluj-Napoca (Hybrid)
RESPONSIBILITIES
The Technical Customer Support team focuses on 2nd level support, the team is in contact with clients as well as with Research & Development teams
This role entails delivering exceptional customer support to clients, and the candidate will be responsible for ensuring that consistent support is provided quickly and efficiently
Responsible for monitoring Technical Customer Support queue through the working day and taking action on all customer tickets
Responsible for all issuesscalated by Customer Support Team (1st level)
Investigate issues in database and log files, when necessary
Analyze application problems, recommend and work closely with other departments to find a solution
Report and discuss production errors with Development team
Ensure client requests are met in an agreed timeframe to allow a better customer adoption
Responds quickly and positively to the needs, requests and demands of the customers and colleagues
Treats current customers as vital to the business and takes responsibility for meeting customer needs
Communicate professionally with internal and external customers and other teams 
REQUIRED SKILLS
Fluent written and spoken Romanian is mandatory
University degree/diploma or student at Technical University preferred
Demonstrated analytical and problem-solving skills
Demonstrated planning and organizational skills
Computer Skills: Office, SQL Server Management Studio (it's a plus)
Proactive, "can do" attitude
Excellent communication skills, written and verbal, to explain complex situations or solutions competently and confidently
Must be flexible and dependable, willing to work as part of a team and take on additional responsibilities from colleagues when necessary
COMPANY OVERVIEW
Find your place in the culture of involvement and continuous education. 
Is there a better time than now?
Even though times are changing, some things remain the same: our sense of purpose, contribution, and belonging.  Thus, professional development and personal growth are influenced by our work environment. Growing people and growing specialists is part of our culture. 
Building knowledge pipelines within the organization, between our people, has become a natural way to create a space of sharing, a space of involvement. This offers you a 360-degree experience within the organization: learning, inclusiveness, contribution, evolution. Because searching for a job, actually means searching for a place to fit in.  And that place might be within our organization.
We strongly believe that our solutions and devices are empowering people and changing the way they experience everyday life. You will have the chance to express yourself and make use of your amazing abilities by working on very interesting projects.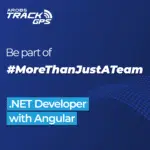 .NET Developer with Angular Prev post