Summary
TrackGPS by AROBS Telematics, as an exhibitor at the 37th edition of the GITEX Technology Week in Dubai had the opportunity to present to its 147,000 visitors a range of fleet management telematics solutions.
AROBS Telematics
AROBS Telematics is a Romanian company in a continuous expansion defined by the multiple acquisitions of companies in Europe and Asia. The company has its own line of telematics products (TrackGPS, SAS Grup, Skyshield) dedicated to domestic and international markets.
In September 2018, AROBS Telematics acquired SAS Grup – a major competitor in Romania, thus, the company became one of the largest players in the national market, with a portfolio of 100.000 vehicles monitored.
TrackGPS – exhibitor at GITEX Technology Week 2019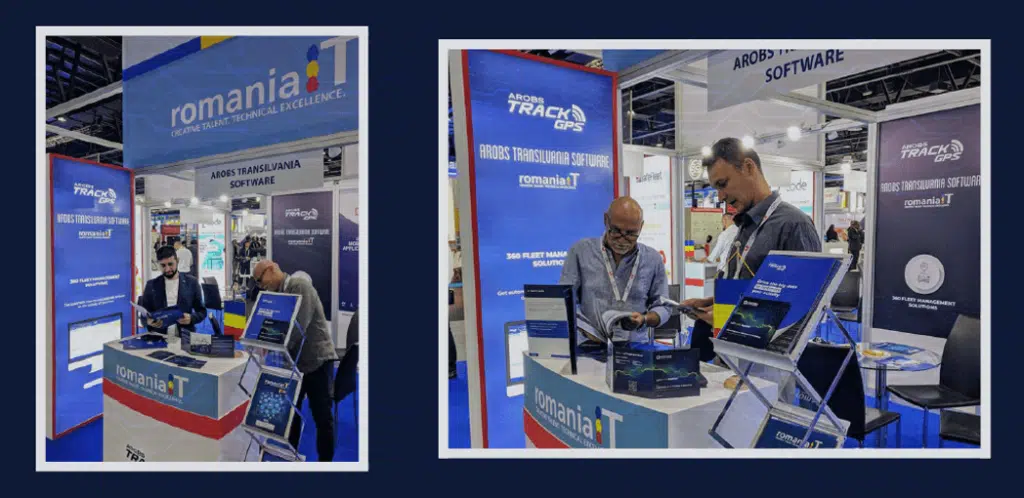 TrackGPS provides a range of telematic solutions dedicated to fleet management, such as: Basic Tracking, Driver Behavior, Fuel Consumption, Car Sharing, Controlled Temperature and Humidity or Secure Transport.
These solutions were presented in Dubai, during GITEX Technology Week 2019, the largest technology event in the Middle East, North Africa and South Asia.
TrackGPS solutions for GITEX Technology Week 2019
TrackGPS offers GPS systems, devices, sensors, special equipment and proprietary software, developed and improved over 13 years of experience. The solutions were created to meet the essential needs of a car park, providing telematics data transposed in real-time reports. By processing the information, the application generates interactive graphics and tables, which allows a comparative analysis of specific parameters.
Basic Tracking is a solution created to meet the essential needs of a car fleet, facilitates control over all vehicle operations.
By implementing a solution such as Secure Transport, you have the option of setting alarms or notifications, such as: leaving the route set by the manager, arriving at the destination of a vehicle or unauthorized opening of the doors.
Monitoring the driver's behavior is essential to have control over how vehicles are used in real time.
Within the GITEX Technology Week's technology and telecommunications panels, TrackGPS presented its customized solutions according to the needs of customers, but also the applications developed for iOS and Android.
You can also find us on:
trackgps.md | trackgps.hu | trackgps.co.id