Companies that activate in industries such as courier services, refrigerated transport, freight transport usually make use of utility vehicles (vans) in order to carry out their daily activities.
Each company is looking for the most effective methods to monitor and manage daily activities with the purpose of gaining a competitive advantage.
Better route planning in order to arrive in due time at destination, real-time monitoring of each vehicle, transport safety and driver's behaviour monitoring are just some factors that have major impact on the quality of the services and the operating costs.
Therefore, TrackGPS solutions are ideal for this type of vehicles. TrackGPS gives you the possibility to cope with all the challenges that you have to face daily, contributing to higher quality of services and lower operating costs.
RECOMMENDED SOLUTIONS FOR COMPANIES OWNING UTILITY VEHICLES ARE: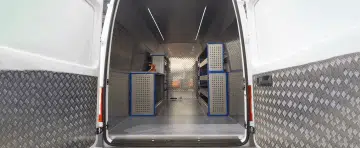 Feature for temperature monitoring and strict control over cargo transportation environment.

Feature for real-time vehicle tracking, generating special reports and setting alarms or notifications.
CHOOSE THE RIGHT SOLUTION FOR YOU AND SET UP THE PRICE OFFER!